I had an amazing photo shoot with the group of talents for the fashion show "Kimono Girls in Wonderland" at "The Last Book Store" in downtown Los Angeles, on this year's Thanksgiving weekend. I shot the girls right before the show started when they were being prepared by the professional stylists. We worked on a tight "beauty assembly line". After each model finished her makeup, hair, and came to me,  I got 3 to 5 minutes to photograph her before the next model stepped in.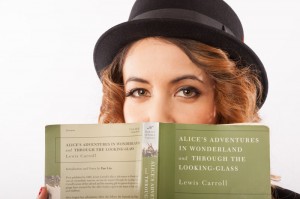 This is the show host Amelia.  Her makeup is by Minaho Takahashi and hair by Mayu Ikeyama and Kinuyo Takasima from Dali Salon in Osaka, Japan. She is reading from the book that inspires the Kimono show. Kimono Styling is by Rinko Kimino; Production manager: Satomi Imai.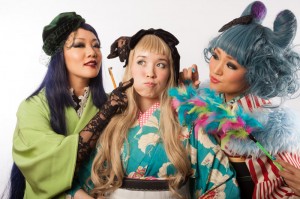 The trio from Kimono Girls in Wonderland (Caterpillar, Alice in the middle, Cheshire Cat) are full of playful energy. Models: Hitomi, Mayuko, and Alpha; Makeup by Tomoko Miyamoto, Kazuyuki Ervin Okada, Minaho Takahashi; and hair by Mayu Ikeyama and Kinuyo Takasima.
More than 20 people worked in a tight conference room upstairs of the bookstore. When they walked to the door, they had to pass the maze of my lighting gear and be careful not to knock down the softbox on their way.  Time was pressing and space was small though everyone was so courteous and full of fun spirit.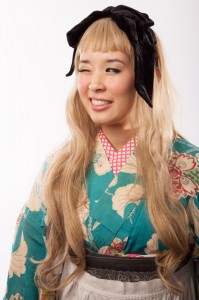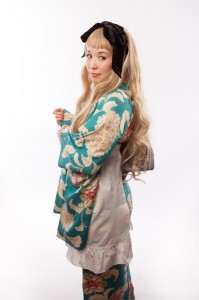 The character of Alice is modeled by Mayuko. Her makeup is by Kazuyuki Ervin Okada, and her hair by Mayu Ikeyama and Kinuyo Takasima. Mayuko is such a versatile actress. I didn't even recognize her at first sight even though I've shot her last year in a different role.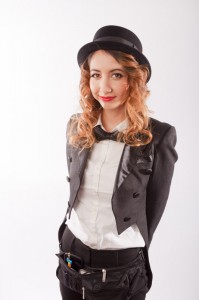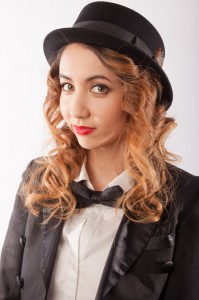 There are 11 girls in total that I shot in this less-than-one-hour photo session. I have more photos to be processed and I am going to post them in a series on my blog.