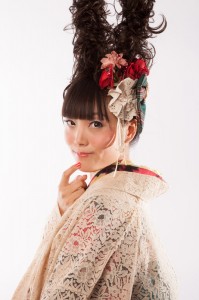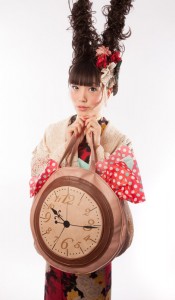 Here comes the white rabbit character from "Alice in Wonderland". You can see the clear resemblance of her high rising hair with bunny ears. The hair stylists did a fantastic job. I heard from Satomi that the team brought the hair props from Japan. Tick-tock, tick-tock, you'd better hurry.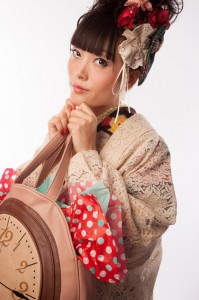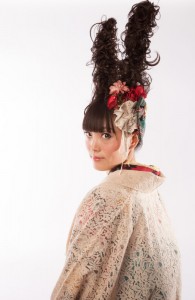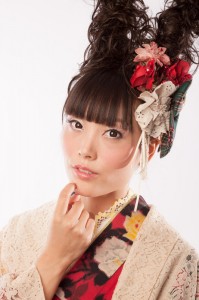 Model: Miki; Makeup: Kazuyuki Ervin Okada; Hair: Mayu Ikeyama and Kinuyo Takasima; Kimono Styling: Rinko Kimino; Production manager: Satomi Imai.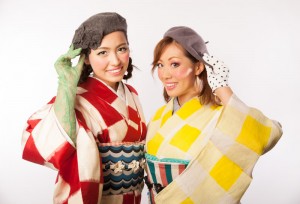 This is Tweedledum and Tweedledee modeled by Julia and Kanae, makeup by Tomoko Miyamoto, hair by Mayu Ikeyama and Kinuyo Takasima. Can you tell which is which? I can't tell.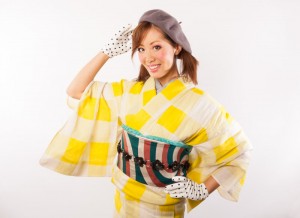 Kanae's makeup is pink and red theme which is hard to wear for normal people, but she wears it well with her yellow kimono. It's truly juicy fruity couture which reminds me of the makeup book I read by Akemi Nakano. I purposely didn't retouch the two brown dots on her face away. They look very cute on her face and also fit the character of Tweedledum/dee. Remember in the 50's, Hollywood star Marilyn Monroe drew a mole on her face as her beauty mark.