In this corporate head shot session, I did a comparison of medium format Hasselblad camera with digital Leaf back versus 35mm Canon 5D mark 2.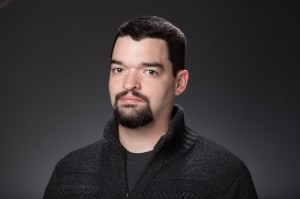 I set up the lights first, invited the model to step in, and shot a set hand held with the Canon. Then I switched to Hasselblad on a tripod and shot him in the same pose and same marked standing location, same lighting again in another set. I switched the backdrop twice: first I used dove grey seamless and later medium grey seamless. The Hasselblad is so bulky and heavy, I had to set it up on a tripod. The focusing is more difficult on Hasselblad compared with Canon to get it tack sharp on the subject's frontal iris. There is no enlarger 5X or 10X on the screen back and I didn't tether it. I can get the model involved more and get more response when I stay behind the lens and talk to the model compared to staying in front of the computer screen. The digital back actually cut off the top, so what you see on the back screen during the shooting doesn't match the actual image you get. So you'd better be careful about your framing and give extra space on top. The digital sensor back is not sealed on the back of the camera; it's exchangeable with a film back. So the CCD sensor gets dirty rather easily. Either clean it before the shoot or PS the dust spots away during the post processing.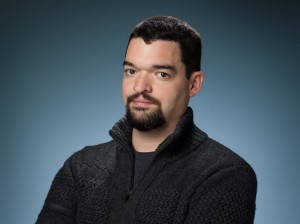 It sounds like I'm complaining a lot about Hasselblad.  But when the image comes out, how I love the result. The quality of the image is unparallelled (unless it's 8X10 film). The ISO 50 and 56 MB file size at 6088×4550 resolution on Hasselblad compared to ISO 100, 23MB file size at 5616×3744 resolution of Canon is crispier and cleaner. Every pixel is physically larger, so it's less noisy. The dynamic range of Hasselblad for sure gives more room for manipulation than the Canon. It's way more vibrant and satisfying for this shot. I do love my Canon camera. But for carefully set up shots almost like still life portraiture shooting, there is great merit in using larger format.
Extra benefit: you rewind it each time before pressing the shutter and manually switch to the F-stop you want. It gives such a nostalgia feeling like a film camera. It's tangible and intimate. I heard that every Hasselblad camera body is hand crafted in Sweden for a year before coming out to market.